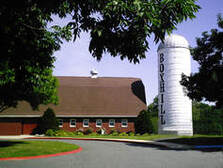 WELCOME TO THE BOX HILL NORTH COMMUNITY
2920 Strathaven Lane Abingdon, Md 21009


NOTE FROM THE BOARD OF DIRECTORS... Welcome to the Box Hill Community. It is difficult for the Board of Directors to welcome each and every new family that moves into our Community; for this reason we are taking this opportunity to do so now. In case your "selling agent" did not tell you – you are automatically a member of the Box Hill North Community Association. We are a "restricted" Community and the Association was set up during the planning in order to maintain high standards of living and property values. Copies of the Box Hill Rules and Regulations can be obtained through the office. The Leisure Center is located in the "Barn" as is our office. Please feel free to stop by for a "look see" or obtain information. Office hours are usually Monday: 11~5 p.m. and Tuesday ~ Friday: 8 – 2:00 p.m. An answering machine is on duty when no one is available to answer the phone. Every other month the "Barnstormer" is sent to each resident of the Box Hill Community. It has information about the Association, the social activities in the Community, committee reports, community policies, classified and business ads and more. The Association consists of the Board of Directors, Office and several committees. This committee is composed of volunteer residents, so please keep in mind that your services are solicited in community welfare. All committee meetings are open to all residents in order to get to know your Association better. Good luck with your "moving in and getting settled." If we can be of any assistance, please give us a call or stop by the office.
GFL Townhouse Trash for the Holidays
Monday, December 25, 2023 will be moved to Tuesday, December 26,2023.
Thursday, December 28, 2023 will be moved to
Friday, December 29, 2023
No change for New Year's Day!
********************************************************************************
HOLIDAY HOUSE DECORATING CONTEST
Judging will be on Sunday, December 17th around 6 p.m.
Homes will be judged in the following categories:
Magical
Classical
Whimsical
Townhouse & Single Family Homes
Prizes will be awarded to the winners.********************************************************************************
COMMUNITY INFORMATION
...
Mailbox Drop Box

:
For your convenience, there is a mailbox drop box located at the barn door entrance below the window on the right side of the door. Just pull the metal handle and drop off your assessments,etc. Checked daily.
​ DATES TO REMEMBER...
Design Review Board

~

Monday, December 18th @ 6:00 p.m.
Board of Directors

~ Thursday, December 14th @ 7:30 p.m. in the Box Hill Barn.
(Meeting will be held in the Barn and virtually) https://meet.google.com/dnw-qtnd-ira code:

dnw-qtnd-ira
COOKIES WITH SANTA ~ Saturday, December 16th @10:00 ~ 12 noon
It's about that time for cookies with Santa! When sending Venmo, please include the name of the child/children when registering, so they are put on Santa's nice list!
** The residents of Brightview Assisted Living LOVED our homemade cards last year from the kiddos. Even if you are not attending the event, and you and your family would like to send a card (either bought or handmade) spreading some holiday cheer, I am sure they would really appreciate it. You can drop them off at the barn during office hours, or shoot me a message and we can coordinate a meet up!**
Hope to see you there!
Click on the link below for more information.
Office Phone Contact
(410)-515-3958
2920 Strathaven Lane Abingdon, Md 21009
Monday 11:00 a.m. ~ 5:00 p.m.
Tuesday ~ Friday 8:00 a. m. ~ 2:00 p.m.
We Are Closed On Saturday & Sunday


Email

: boxhillbarn@verizon.net

NEW ~ Facebook: Boxhill Barn HOA